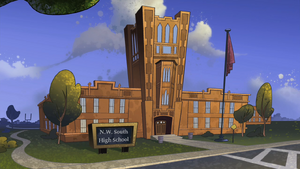 st

The N.W. South High School was the high school that Daffy Duck, Marvin the Martian, Pete Puma and Porky Pig attended, which was seen in Reunion, where all the students were seen in a graduation party.
Daffy was known to be an unpopular person, despite telling Bugs, who didn't go to high school, that he was popular and Marvin, Pete and Porky were unpopular. However, Porky reveals that he was the popular one and Daffy was unpopular.
In the stories Daffy and Porky both told, the school cafeteria was shown. The reunion was taken place in the gym and featured a photo booth.
Notable Students
Trivia
Marvin was a foreign high school student.
Pete didn't graduate high school, but is currently a zookeeper as seen in Devil Dog.