st



Granny's Mansion
 is Granny's house, next door to
Bugs
and
Daffy
. She lives there with her pets,
Sylvester
and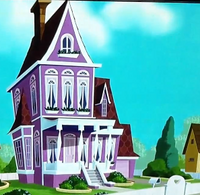 Tweety
. The house contains a living room, a dinning room, a hallway, a TV room, a bathroom and an attic. In Season 1 the house's color was a tannish yellow. In Season 2, the house's color was changed to a purplish pink, to add more vibrant colors into the show, that Season 1 was lacking.
In Devil Dog, Bugs and Daffy go to Granny's doorway to ask if Taz is her pet, naive that Taz is actually a wild Tasmanian devil. While this is happening, Taz sneaks in, and finds Sylvester about to eat Tweety. Tweety tells Sylvester that Taz is behind him, but he doesn't believe him. Then, Taz starts to attack at Sylvester, and he and Tweety escape into the dinning room. When Taz finds them, they escape through the chimney to escape. Taz also springs at them out of the chimney, but misses and lands on the porch, where Bugs, Daffy, and Granny are.
In Eligible Bachelors, Daffy comes to Granny's house to clean her attic. Sylvester is also in the middle of chasing Tweety when they enter the house. Also after Granny tells Daffy her story about World War 2, she shows him that the Eiffel Tower is displayed over her house, as a gift for saving it from the Nazis. Granny tells Daffy that the one in Paris is a fake.
In
A Christmas Carol
, Granny, Sylvester, and Tweety are by the fireplace in their house during the song,
Christmas Rules
, where Tweety sings his part.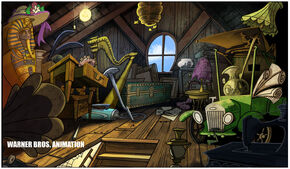 In We're in Big Truffle, Taz, Bugs, Lola, and a frog speed through the house breifly while Sylvester is helping Granny knit on the couch. Tweety is also there, and breifly notices Taz, Lola, and Bugs chasing the frog.
In Spread Those Wings and Fly, Daffy is seen leaving Granny's mansion, stealing Tweety in his cage, while sleeping.
In The Grand Old Duck of York, Daffy and Winnie take piano lessons there.