Before its premiere on May 3, 2011 on Cartoon Network, The Looney Tunes Show had tons of advertisement, including characters visiting the White House for the annual Easter Egg Roll, trains and even in Time Square.
Press Release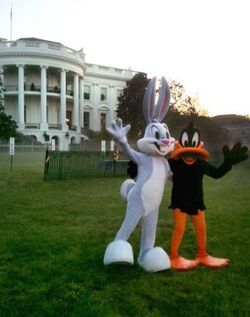 HARE TO THE CHIEF IN 2012?
The Looney Tunes Show stars and animation icons Bugs Bunny (left) and Daffy Duck (right) joined President Barack Obama and First Lady Michelle Obama in welcoming more than 30,000 guests to the 2011 White House Easter Egg Roll today, Monday, April 25, at The White House.
While in Washington, Bugs and Daffy adamantly denied persistent rumors that they are forming an exploratory committee to enter the 2012 presidential race. Pundits have noted that together they would form a balanced ticket: Bugs is an Independent, while Daffy is Highly Dependent.
The pair insist that they remain focused on next week's launch of The Looney Tunes Show, an all-new animated comedy series from Warner Bros. Animation premiering May 3 and airing Tuesdays at 8/7c on Cartoon Network. (Photo Credit: © 2011 Warner Bros. Entertainment/Cartoon Network. All Rights Reserved.)
Webkinz
On April 27 through May 10, 2011, there was a Webkinz World promotion for The Looney Tunes Show, according to Webkinz Insider, for people in the United States only. According to the Webkinz Insider Wiki, there was a Video Challenge where you can earn prizes for your Webkinz account. You can send the prizes to other accounts via KinzPost however. To add on to the Video Challenge promotion, between May 2nd and May 11th, members who log into Webkinz World will receive a Pop Art Carrot poster via KinzPost. Prizes can be seen below:
Cartoon Network is bringing Bugs Bunny, Daffy Duck and the rest of the gang back to your television with an ALL NEW SERIES! Starting in May, The Looney Tunes Show will be on the air every Tuesday! To celebrate the arrival of some of our favorite cartoon characters, we're giving out a bunch of terrific prizes! If you log into Webkinz World between May 2 and May 11, you'll be able to check your KinzPost for a carrot poster (Bugs Bunny approved!). Watch the special The Looney Tunes Show video starting on April 27 and running throughout May, and you'll get the chance to win one of eight super items* (items like a box of pizza, an exquisitely plump and juicy carrot, a duck-billed hat, and much, much more!).
It's official: Webkinz World is crazy for The Looney Tunes Show!
*One item per Webkinz account per day. Open to US residents only.